2023 Copyright Karma Beauty and Wellness | Made by

WebDebSites
ABOUT US
The #karmagirls are all professionally
licensed and insured providers. The years
of experience and ongoing continuing
education are hands down hard to beat!
We are one Master's of Science in Nursing
RN, Two Bachelor of Science in Nursing
RNs, and three licensed estheticians that
love helping our clients GLOW! Your safety
as well as results are our priority and you
could not be in better hands!!
We believe in Karma...quite literally. Karma
simply means that whatever you put out
into the universe will come back to you--
and for us, that means helping each client
find the procedures and treatments that
will improve the way they feel about
themselves when they look in the mirror.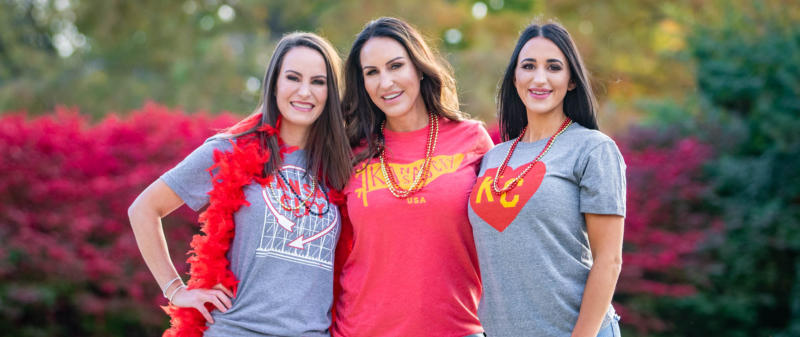 Born and raised in a small town, her
grandparents (a doctor and nurse) inspired
her to pursue a career in Healthcare. Before
opening Karma Beauty and Wellness in
2014, she worked as a Registered
Respiratory Therapist and a Registered
Nurse. Her specialty units were Neonatal
Intensive Care unit, Cardiothoracic surgery,
pre/post anesthesia care and medical spa
RN Injector. In 2021, Lenae decided to
further her education by obtaining her
Master's of Science in Nursing degree.
Lenae is a Board Certified Family Nurse
Practitioner.
The success of Karma lies in its core values:
Honesty, doing what's right for each client
and commitment to safety. Unlike many
other Med Spas, Lenae and her team will
not sell their clients products or treatment
that are not needed.
As the owner, Lenae has over 20 years
nursing experience and 12 plus years of
injection experience. She is adamant about
continuing education and advanced
trainings in cosmetic injectables. She has
extensive experience administering state of
the art laser treatments and chemical peels.
Lenae never stops learning so that she
always brings the best to her clients.
Lenae is committed to lifelong learning, but
she is also a dedicated mother. She loves
spending time with her family, Carli Jo,
Giana and Willie. And lets not forget her fur
babies, Bella the English Bulldog and
Karma and Nae-Nae the French Bulldogs.
lenae
Julia became a licensed Esthetician in
2017 when she graduated from Johnson
County Community College. She
attended training in Italy for a skincare
company in 2018 gaining knowledge for
skincare ingredients and European facial
massage techniques.
She specializes in dermaplaning,
customized facials, Eribium laser, tattoo
removal, microneedling and laser hair
removal. Her training includes:
Hydrafacial, Face Reality Acne Specialist,
Venus academy for IPL, Laser hair
removal, skin tightening, and viva
resurfacing.
Her love for skincare started at a young
age and that's when she quickly became
passionate for Esthetics. In Julia's free
time she likes to spend time with her
boyfriend Rily and her 3 cats, Aries, Diva
and Roki. And in 2021 they welcomed
their son, Wyatt! They enjoy traveling,
hiking and spending time with friends in
their spare time.
julia
Leah enjoys first time neurotoxin clients,
laser treatments and helping people
come up with an affordable treatment
plan. As a previous adamant Cetaphil
cleanser user, Leah noticed a huge
difference when switching to medical
grade skin care products. Based on her
own experience, she is helpful at setting
up a basic skin care routine that is easy
to follow.
Leah is a registered nurse and out of
nursing school, followed in her sister's
footsteps becoming an operating room
nurse. Fast forward ten years and once
again, Leah was inspired by her sister,
Lenae, to transition into aesthetics. The
two sister's have worked together for a
couple years now and often Leah gets
confused by people for Lenae!
When not working at the hospital or
Karma beauty and wellness, Leah
recently became a new mom in 2021 to
baby Dylan. Her other two side kicks are
Drake and Gunner, both drahthaar breed
of hunting dogs and very spoiled.
leah
Cortney is an expert when it comes to lips
and loves to introduce clients to the lip-filler
world! She also specializes in all dermal
fillers, neurotoxin and advanced laser
treatments such as CO2, Vivace, Erbium
and Subnovii.
Cortney is a Registered Nurse with over 10
years of experience working in the
healthcare field. Her nursing background is
in the neonatal intensive care unit.
Seeing the potential Cortney showed, along
with her drive to learn and prioritize client
safety, Lenae was reminded of herself and
decided to take Cortney under her wing 7
years ago. Cortney officially joined the
Karma team in 2016 and has been an
amazing injector ever since. Cortney is
Lenae's niece and carries the same
compassion and love for the field as Lenae.
When she is not helping Karma clients
enhance their look, Cortney is a full-time
mom of two boys, Anthony and Pierce. Even
with juggling such a full schedule, Cortney
always ensures that each Karma client
receives her best work and full attention.
She understands the importance of
prevention and enhancement while
keeping a budget in mind.
cortney




Joseph Cannova Jr., M.D. is a member of
the American Society of Plastic Surgeons,
certified by the American Board of Plastic
Surgery, and a fellow in the American
College of Surgeons. He has been
practicing with Associated Plastic
Surgeons for over 20 years.
Dr. Cannova specializes in cosmetic
procedures and sees patients of all ages
in his practice. From breast
augmentations or breasts reductions to
rejuvenation through facelifts, eye lifts,
laser surgeries and popular "mommy
makeovers", he is passionate about using
his talents to increase self-confidence and
improve quality of life for all his patients.
"For some people, a cosmetic procedure
can make all the difference. Helping
people through this process and
achieving pleasing results is extremely
rewarding."
A Kansas City native, Dr. Cannova
attended Pembroke Country Day School
and earned his undergraduate and
medical degree from Universtiy of
Missouri-Kansas City. Dr. Cannova's
desire to become a plastic surgeon came
as he performed his general surgery
residency at St. Luke's Medical Center in
Cleveland, Ohio. As a resident, the doctor
saw firsthand the transformation plastic
and reconstructive surgery could make in
a patients life and decided to pursue this
as his career. Later, as he trained at the
Medical University of South Carolina, he
was exposed to the full gamut of plastic
surgery procedures and techniques.
Highly regarded as an expert in his field,
Dr. Cannova has both presented and been
published in the area of plastic surgery.
In 1998, Dr. Cannova was happy to return
to the Kansas City area and serve his
hometown. He and his family reside in
Leawood.
Dr. Cannova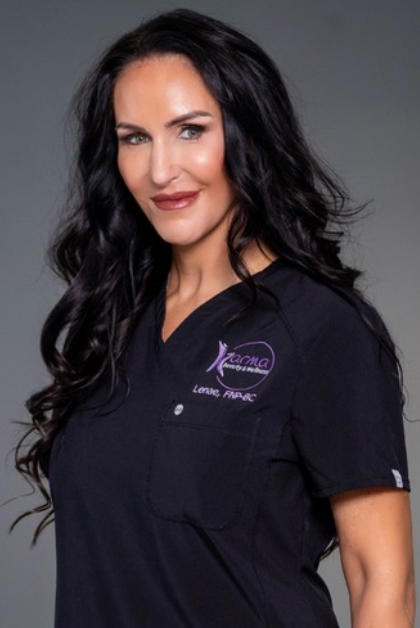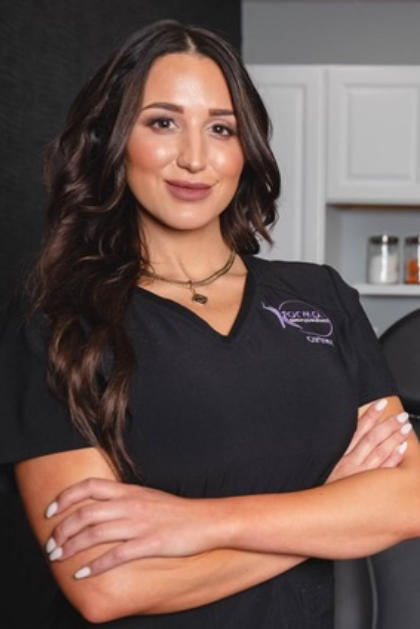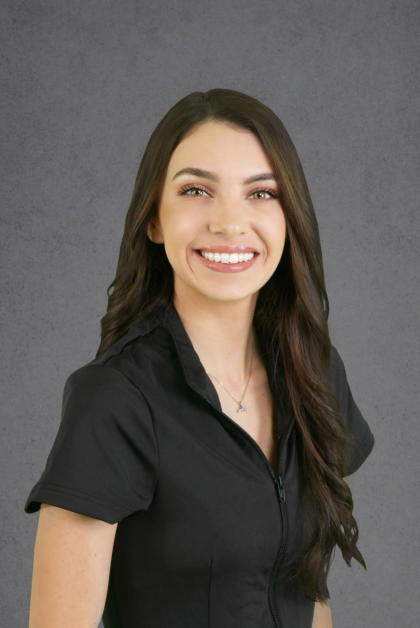 620 SE State Route 291 Suite 101
Lee's Summit, MO 64063

7108 W. 119th Street
Overland Park, KS 66213


Karma Beauty & Wellness
Hi, my name is Bailey. I am 24 years old. I
graduated from American college of Hair
Design and got my Esthetics license in
2022.
I have been working at Karma for a little
over a year now, however I am very familiar
with the esthetics field. I specialize in
custom facials, dermaplaning, chemical
peels, laser hair removal and micro-
needling.
I am passionate about helping my clients to
look and feel great about their skin!
When I am not treating clients at Karma, I
enjoy time with friends and family, riding
my horses, and spending time outdoors
whether that be at the lake or camping.
bailey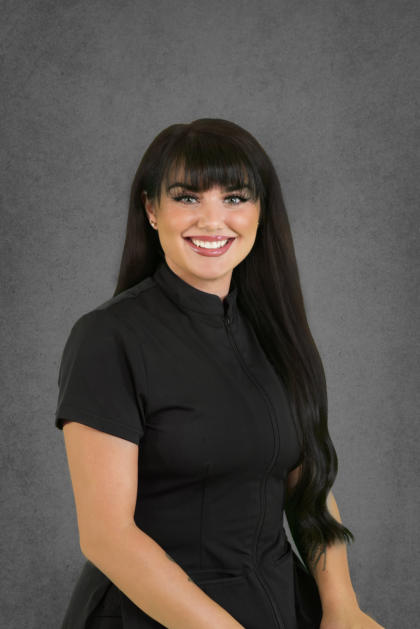 I graduated esthetic school from Jonson
County community college in 2022 and
have been licensed for over a year.
I love building relationships with clients
and helping them achieve their skin care
goals.
What I love about esthetics is that there is
always something new to learn that can
help me advance and grow in my career.
No one's skin is perfect but when you are
equipped with the right knowledge and
consistency, healthy skin can be achieved.
I love helping clients see that result.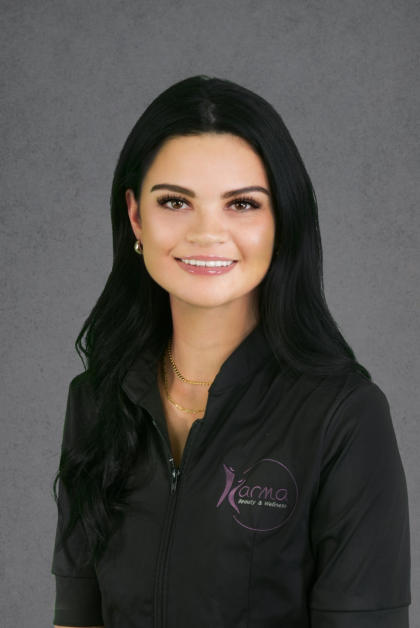 sophia